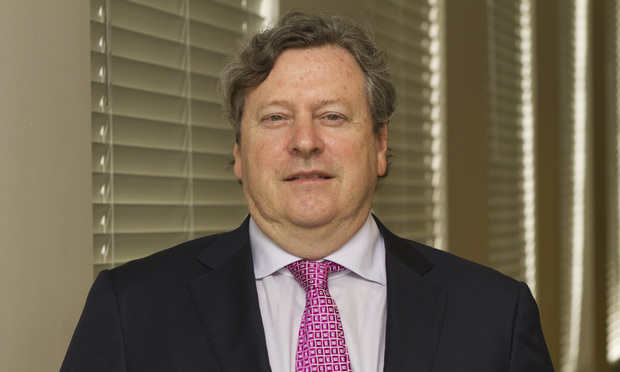 ( Stephen F. Humphreys, Atlanta. (Photo: John Disney/ ALM) )
https://www.law.com/dailyreportonline/2020/05/06/5-justices-recuse-in-ex-georgia-perimeter-presidents-rico-case-against-regents/
5 Justices Recuse in Ex-Georgia Perimeter President's RICO Case Against Regents
Stephen Humphreys has been fighting a string of adverse trial and appellate court rulings against his client, former Georgia Perimeter College President Anthony Tricoli, who was ousted amid claims he mishandled millions in college funds.
By Greg Land | May 06, 2020 at 03:16 PM
Update appended below:
Five of the state's Supreme Court justices recused from a case centered on a yearslong battle between a former college president whose claims he was ousted as part of a cover-up of millions of dollars siphoned off by the University System of Georgia that has grown to include allegations of fraud and racketeering involving the state attorney general's office.
Former Georgia Perimeter College President Anthony Tricoli and and his lawyer, Athens solo Stephen Humphreys, have been consistently stymied by lower court rulings, and the appeal the justices will hear ostensibly only involves a $6,675 sanctions order levied by a DeKalb County judge.
Humphreys is hoping he will at last get his chance to lay out what he considers insurmountable evidence of wrongdoing by the university system, Board of Regents and attorney general's office, aided by the acquiescence or bias of jurists at every level.
Humphreys sought the recusal of all nine justices last month for a variety of reasons: Some had already ruled against him as Court of Appeals judges, others in declining to hear prior appeals as justices.
Justice Sarah Warren is a former Law Department attorney, he noted, and Justice Nels Peterson was once legal counsel for the state Board of Regents.
A two sentence order issued Monday said Justices Peterson, Warren, Charles Bethel, John Ellington and Carla Wong McMillian have decided to recuse. Chief Justice Harold Melton and Justices David Nahmias and Michael Boggs declined to do so.
Humphreys said that, while he welcomes the recusals, he must wait and see whether the court will agree to hear his appeal.
"They denied review the first time, even though the Court of Appeals initiated summary judgment on their own, with no notice or opportunity for us to respond," Humphreys said.
"I'm arguing they illegally denied cert the first time under the summary judgment statute, and that they have to review it."
"Of course, they'll have to round up some judges first," said Humphreys, who brought aboard criminal defense specialist Bruce Harvey to assist with the case in 2018.
Humphreys also is representing the plaintiffs in a Fulton County case asserting that the university system and former state Attorney General Sam Olens conspired to force out former Kennesaw State University President Daniel Papp so that Olens could take that job, which he held from 2016 to 2018.
That case was also dismissed and the justices denied cert in March, but Humphreys has a motion pending asking that the case be consolidated with Tricoli's at the high court.
A spokeswoman for Attorney General Christopher Carr declined to comment.
The case began with Tricoli's forced ouster in 2012 after auditors said more than $16 million had gone missing. The sum in question was later reduced to about $10 million.
Tricoli sued the Board of Regents and its members along with other system officials and Olens for claims including fraud, breach of contract and violations of Georgia's Racketeer Influenced and Corrupt Organizations Act, arguing he was set up as the fall guy for a scheme to loot Georgia Perimeter's reserves.
The state responded with a motion to dismiss, arguing among other things that the RICO statute contained no express waiver of sovereign immunity for the state and that Tricli had produced no written contract.
DeKalb County Superior Court Judge Daniel Coursey dismissed the suit, ruling the tort claims were barred by the Georgia Tort Claims Act's sovereign immunity provisions, as were the RICO claims.
Tricoli appealed, but the court's seven judges upheld Coursey's dismissal in 2016.
Writing for the majority, Judge Gary Andrews wrote that Tricoli's RICO claim "is an imaginative theory of recovery to assert against the state itself, but that is about all it is—imagination. The Georgia RICO Act does not express any waiver of sovereign immunity."
The judge also wrote that, while Coursey had ruled on the state's motion to dismiss, Tricoli had introduced evidence that he did have a written contract, thus changing the motion to one for summary judgment.
"Tricoli's submission of documentary evidence in response to the motion to dismiss constituted, in effect, a request to convert the motion into one for summary judgment and waived the notice requirement for such a conversion," Andrews wrote.
Presiding Judge Yvette Miller dissented, taking issue both with the court's conversion of Coursey's order changing the motion to one summary judgment and with its assertion that the RICO statute shielded state actors under sovereign immunity.
"The trial court did not convert the motion to dismiss into a motion for summary judgment," she wrote, and "could not do so without providing Tricoli with notice."
She also said the RICO act did not have to include specific "magic words" waiving sovereign immunity.
"The RICO statute includes government entities in its definition of enterprise, and it specifically provides a private individual with a civil remedy for RICO Act violations," Miller wrote.
The Georgia Supreme Court denied cert on Tricoli's appeal, as did the U.S. Supreme Court.
Humphreys then filed a motion asking Coursey to set aside his ruling dismissing the case.
Coursey denied the motion, and a lawyer with Carr's office followed up with a motion for sanctions against Tricoli and Humphreys for filing it.
Coursey wrote the motion was "riddled with expansive and baseless assertions that display stubborn ignorance and purposeful disregard for the facts and the law." The judge levied a $6,657 sanction based on the time Senior Assistant Attorney General C. McLaurin Sitton spent responding to the motion.
Humphreys appealed that order and, while it was pending, filed a supplemental brief alleging massive fraud by the university system involving federal grant money, to which the state never responded.
After hearing oral arguments—which included then-Judge McMillian chiding Humphreys for using his time on a "rant" unrelated to the issues at hand—the Court of Appeals affirmed Coursey's order in October.
In his December application for cert to the state Supreme Court, Humphreys came out swinging: "This case is Georgia's Watergate, only worse—by at least a billion dollars in fraud by state government officials," he wrote.
"This case has got the documented crime," he continued. "It's got the cover up. It's got the attempt to evade the most fundamental law of the land, not just by a cabal within the executive branch of state government, but taking in the Georgia judiciary, which has gone so far as to give a free pass to witness intimidation and whistleblower retaliation."
Update:
Humphreys disputes that the only issue he has asked the Supreme Court is whether he should have been sanctioned for asking Judge Coursey to set aside his order dismissing the case.
"That is the only issue on which the AG responded," said Humphreys, noting that he raised other matters and filed three supplemental motions that the Court of Appeals also dismissed.
"[T]he AG's failure to respond on those issues does not mean they are not before the court on my petition," said Humphreys in an email.
According to the brief the state filed with Supreme Court, the issue before the justices is: "Whether the Court of Appeals correctly affirmed the trial court's exercise of discretion in sanctioning Petitioner and his counsel, Stephen Humphreys, for filing a motion to set aside a judgment that had been affirmed on appeal and which motion the trial court found devoid of support in fact and law